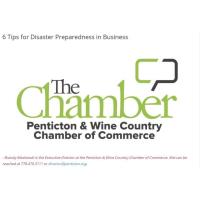 6 Tips for Disaster Preparedness in Business
Brandy Maslowski is the Executive Director at the Penticton & Wine Country Chamber of Commerce. She can be reached at 778.476.3111 or director@penticton.org.
PENTICTON – "October 3, 2014 – My phone rang at 4:30AM It was the security company advising that disaster had struck," says Ryan Wuthe, Operations Manager, Boyd Autobody & Glass Penticton.
"I live around the corner and could hear the sounds of sirens. I raced to the scene to find a fury of action. I was thankful for the alarm systems that informed SOS Security for if it wasn't for their quick response there may have been nothing left. The fire fighters are also to be thanked for their quick response. Little did we know the process, cleanup and impact this would have on the business."
You can't predict when a disaster will strike or the effect it will have on your business but you can take steps to be prepared in advance. Here are the Penticton Chamber's 6 TIPS for Disaster Preparedness:
PROPER MONITORING AND SECURITY – Have an alarm in place for fire and burglary that is monitored so you will be notified 24/7. Monitored alarm systems have the option of open/close reports so you can always check who is coming and going and at what time of day. They also offer extra features like flood or carbon monoxide detection. They can even cater to your specific business needs with products like panic buttons or medical pendants which immediately notify the police. You can also hire a security company to respond to all after hours alarms to prevent costly fines if your city has a false alarm bylaw. Research and implement a system that works for you.
INSURANCE – Check into your current insurance plan to be sure it covers building, contents and employment for key staff. Some layoffs may be necessary if you have a 4 to 6 month rebuild, but holding key staff in place is crucial. Boyd quickly learned the side effects of fire were not just the heat and burning but the smoke and soot that would cause the majority of the damage. They were still able to maintain some assistance to their customers with a portable building setup and wired while they waited for the main building to be restored.
COMPUTER BACKUPS – It is crucial that business files and data are automatically backed up and saved daily. This includes files for the last few years, plus tax filing information. Store them in the cloud as well as on at least 3 physical devices. And one of those devices should be located at least 8Km away from the business location in case of natural disaster like flooding or forest fire. If this seems excessive, consider that it could be impossible to rebuild or even function without your customer and financial database, and then hire someone to set this up for you so it is easy to implement. Once you have your backup systems in place test them annually.
RELATIONSHIPS – It's so important to have close relationships with other businesses in your community. Join your local Chamber of Commerce for instant connections. Build strong ties with your insurance, legal, financial companies and even your competition. And first and foremost have outstanding relationships with your customers. Seven customer vehicles were written off as a result of the Boyd fire. Ryan says those calls were challenging to make but they were fortunate to have good relationships and very understanding customers.
COMMUNICATION – Plan in advance to have an alternate location in the case of disaster to set up your computers and basic business operations temporarily. This could be a portable building onsite or in the vacant space of a nearby business. If you have space, offer it in an emergency to other businesses in need. You can also create a 72 hour emergency kit for at work, in your vehicle or at home. In the first critical hours of a disaster you will need a flashlight, camera, snacks, work clothes, plastic sheeting, garbage bags, gloves, and face masks to assess the situation. For communications, prepare media release templates with all contact lists and companies that will help you get wired up for announcements to your customers and stakeholders the same day.
HIRE A RESTORATION COMPANY – You may be tempted to do it yourself, or hire your uncle, brother, or friend for each stage of the rebuild but a disaster restoration company can help you with everything from inventory and documenting of the damaged goods, to overall cleanup and finding professional contractors for the renovations. Most importantly, they offer a warranty. Be sure to use qualified professionals to stay within the guidelines of your insurance policy and to avoid running into bylaw issues that delay re-opening your business or result in fines.
There is no real way to know when a disaster will strike or how deeply it will affect your business. Preparedness comes from thinking ahead, having a solid plan, knowing your customers, growing your business connections, and making a difference where you can when other businesses are in need.
http://businessexaminer.ca/thompson-okanagan-articles/item/6-tips-for-disaster-preparedness-in-business