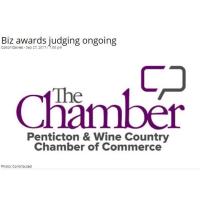 The best in the biz will soon be recognized in Penticton.
The 30th business excellence awards, hosted by the Penticton Chamber of Commerce, takes place on Oct. 14th at the Penticton Trade and Convention Centre.
More than 100 nominees have been chosen as finalists for awards in 17 different categories.
"We're looking to recognize the innovations people have come up with to make Penticton a great place to do business," Chamber president Neil Wyper said. "It's great to see how many businesses are doing well enough that somebody wants to recognize them in this way."
Wyper said the amount of categories for awards have been expanded this year.
"We've got a panel of judges that we're keeping secret… All well respected people. They are looking at the nominations to decide who their favourites are, and we're going to get together and make the decision on who gets the award in each category."
The awards gala will have a "Hockey Night in Penticton" theme.