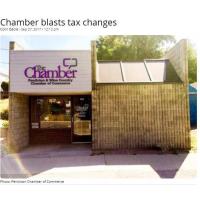 The Penticton and Wine Country Chamber of Commerce is launching a campaign opposed to changes coming to the small business tax code.
"The proposed tax changes will hurt many of our local businesses. After legitimately relying on long-standing rules, entrepreneurs deserve a better consultation process before changes of this magnitude are introduced," chamber president Neil Wyper said.
Wyper added that the changes are "completely out of proportion".
The Trudeau government has been standing by its tax code tweaks, despite outcry from many in the small business community. The changes will aim to close loopholes such as "income sprinkling," where income is transferred from a family member in a high tax bracket to one in a lower one.
The government is targeting incorporated professionals such as doctors and lawyers, and will create a test to ensure any income paid to family members is fair compensation for work actually provided.
The government will also make changes to how passive income (stock investments) and capital gains are taxed.
"While the tax changes seem motivated to capture those who take advantage of their businesses to avoid taxes, most small businesses don't fit that description," Wyper said in a news release.
The chamber is urging business owners to pick up a free postcard from their offices, fill in their comments and mail it to MP Richard Cannings.
https://www.castanet.net/news/Penticton/207664/Chamber-blasts-tax-changes