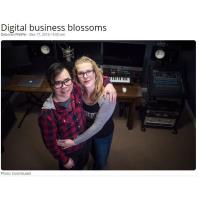 This is the eighth in a series recognizing businesses that took home awards from the 29th business excellence awards held by the Penticton and Wine Country Chamber of Commerce.
A Penticton creative firm that focuses on a broad spectrum of digital multimedia was one of the businesses to take home an award from the chamber event in October.
DM Productions, owned by Dave Mai, won the home based business excellence award.
"I find it very affirming that what we are doing is working," he said. "It's encouraging me to grow as a company even further."
Mai, 28, officially started the business in 2010 through Community Futures, a local organization in Penticton that helps educate entrepreneurs.
It started out as just a recording studio doing live concert productions, working throughout the valley, the Similkameen and Vancouver.
Eventually their goal of also doing video production became a reality.
During their time with Community Futures, they had a five year growth plan to incorporate video production.
"That eventually became our biggest market, doing video production, and we are still doing lots of recording and working with musicians as well," he said.
At first they did music videos, before expanding to also do promotional videos for business, wedding films, short documentaries and aerial imaging with flying cameras/drones.
Their work is is not just limited to Penticton, as they have clients in Europe and have worked with businesses in the U.S.
Mai said they plan to continue growing, with 2016 being their best year yet.
"Our edge is our creativity," he said. "We like to think outside the box and try new concepts.
"Our diversity is what appeals to a lot of people. It's not just video, it's a very diverse service we provide."
http://www.castanet.net/news/Penticton/183619/digital-business-blossoms