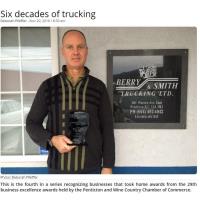 A longtime Penticton business was the recipient of the industrial and manufacturing excellence award handed out by the chamber last month.
Berry & Smith Trucking Ltd. has been around since the 1950s when Stu Berry and Ted Smith pooled their resources to form the company.
Officially incorporated in 1958 the two spent early years doing a variety of things including fruit hauling, which six decades ago was a manual task, and delivering coal to homes.
"They were jacks of all trades hauling whatever needed hauling," said Berry's son Matt Berry, who now runs the company with his brother Mark Berry.
The business was also responsible for school bussing and gradually got into bigger trucks over the years.
In the early 1970s, the company purchased its first tractor trailer, transporting freight around the valley and then expanding to bigger markets like Vancouver.
The fleet of tractor trailers continued to grow as more customers came on board and a concerted sales effort took place.
In 1977, Berry & Smith introduced profit sharing for its employees. This is also the year the city established transit service in Penticton, which the business has operated since.
In 1989, the company opened an office in Burnaby, which relocated to Delta in 1995. And in 2006, they also established a presence in Calgary.
Smith sold his half of the company in 1971 to the Berrys. Stu Berry retired in 1997 and the company is now run by his sons.
Matt Berry, who was very pleased to receive the award, credits their success over the years to having a great staff.
"Everybody is motivated to try and make it work," he said. "And I have to say we have a staff that wants to look after customers and try be efficient and safe and work as a team."
He added they have a strong customer base as well.
Berry said the company will continue to grow and there is now a third generation coming in with his son Parker Berry finishing his business degree at UBCO. Currently, his nephew Kaolin Mallette is working with the company on his commercial transport mechanic apprenticeship.
http://www.castanet.net/news/Penticton/181318/Six-decades-of-trucking