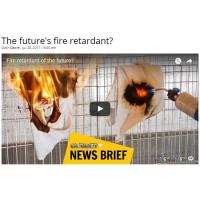 While forest fires rage across B.C., causing massive damage to property and homes, an American-based nanotechnology company is manufacturing what they believe to be the future of fire retardant in Penticton.
Total Nano is headquartered in New Jersey, but local resident and company partner Rod Ferguson oversees manufacturing at a plant on Commercial Way.
Their latest product, called FP 2.3, hopes to be the next big thing in fire prevention at home and firefighting in North America's wilderness.
"It's the next evolution in fire retardant, you are going from chemicals to nanoparticles," Ferguson said.
He demonstrated the product for Castanet cameras, showing newspaper, fabric and cedar shingles stand up to a butane blowtorch without bursting into flame.
The company's engineer, Pascal Gruscot, used a metaphor comparing orange juice to water when comparing water to their product.
"If you spray orange juice, it will not spread like water… our product has a lower viscosity (than water), and therefore it's easier to stop a fire," he said, adding it will get closer to a flame without evaporating.
Once applied, Gruscot said FP 2.3 forms a nanolayer of ultra thin crystals which work as a retardant. The company claims it lasts on a surface for three to five years, and is completely environmentally friendly.
It's already approved for home use, but Ferguson said he hopes to have it ready for use by wildfire-fighting water bombers next summer.
https://www.castanet.net/news/Penticton/202886/The-future-s-fire-retardant