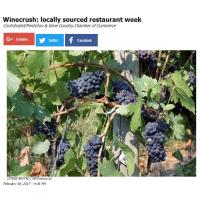 PENTICTON – Winecrush is proud to partner with the Penticton & Wine Country Chamber of Commerce, on a new event focused on new locally sourced menu items served at local restaurants from February 17 – 26, 2017.
Restaurants in the Penticton area have come on board to support this good cause. In the coming weeks it will become extremely popular for restaurants to feature new dishes, prix fix menu's, and petites of their current dishes to attract new guests, and allow chefs to feature new 'trial' menu items. We expect many of the participants to offer a multi course prix fix menu. Diners can select from 3-4 appetizers, 4-5 entrees, and 2-3 deserts. This will later be shared with guests and tourists of the Okanagan to get the best Okanagan Wine Country experience.
Winecrush Restaurant Week will be in support of three local charities: The Chamber Business Scholarship, Penticton Breakfast Club, and South Okanagan Similkameen Medical Foundation. All proceeds will be donated equally, including the $100 restaurant participation fee and the event sponsorships (Platinum (3), Gold (6), and Silver (9). Local community support is imperative to kick-off the upcoming season and enhance the tourist experience of what the Okanagan offers.
To participate or sponsor this event please contact
Duane Pinkney
sales@winecrush.ca
+1 (250) 486-4668
About Winecrush: The team at Winecrush are passionate about creating delicious food products using natural ingredients, while maintaining an environmentally friendly and sustainable business.
The company excels at delivering foods products, using the juiced grapes (Pomace) and fermentation sediment (Lees), which retain most of the flavor and nutrients from the grape.
Winecrush products are full of antioxidants and natural plant compounds, many of which have potential health benefits. For example, Resveratrol has been reported to potentially help with heart disease, metabolism, depression and life span. Others called oligomeric Proanthocyanidins complexes (OPC) and procyanidin dimers. Winecrush is high in anti-oxidants, nutrients, flavor, and specifically converts Androgen to Estrogen – potentially important in the prevention and treatment for breast cancer.
In addition, powdered Winecrush is gluten free and non GMO.
http://infotel.ca/newsitem/winecrush-locally-sourced-restaurant-week/it39428