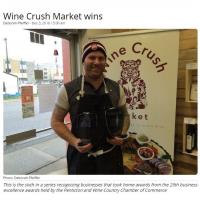 Offering a unique product, and a whole lot of hard work has earned a new Penticton business two chamber excellence awards.
The Wine Crush Market received the new business and sustainability excellence awards at the October event.
"We were very shocked to get the two awards," said part owner Tyson Still. "This has all been very overwhelming, but it's good because it took a lot of hard work, working long hours."
Still says it all started when his business partner was riding his bike in Summerland and came across some wild grapes. He told Still they could get a starter from the grapes going, capturing the wild yeast, and started experimenting.
They then met the owner of a dehydration facility in Vancouver who had a culled crop of dehydrated.
Soon, wine crush powder was being incorporated into all their products.
Initially they sold bread at farmers' markets but expanded with more products, eventually opening a storefront on Brunswick Street.
People can drop by the store, and the products will also be at the BC VQA Wine Information Centre for the next few Saturdays.
As for the future, continued growth is their goal.
http://www.castanet.net/news/Penticton/182587/Wine-Crush-Market-wins