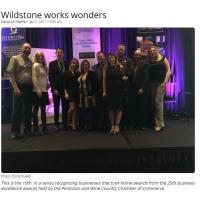 A business whose goal is to provide a better building experience was the recipient of an award from the Chamber of Commerce in October.
The Wildstone Group of Companies was recognized for workplace culture excellence.
"We are very proud of the award because it shows we have the right team and a great team in place in order to get this," said Julie Read, the manager of people and culture.
Wildstone, which has its head office in Penticton, was started in 1995.
It's a general contracting business with a diverse group of builders and engineers.
"We do a mix of light industrial, residential and commercial developments and the company has met with much success over the years" said Read.
The Bad Tattoo Brewing building is one of their more notable projects. A current one is Lighthouse Landing in Trout Creek, with several more listed on their website.
Read credits their ongoing success to having the right people in the right places.
"We really focus on our processes and the engagement of our people," she said. "From our hiring process right through to our retention."
As for what's ahead for the business, she said they plan to continue to build on what is in place.
http://www.castanet.net/news/Penticton/185303/Wildstone-works-wonders