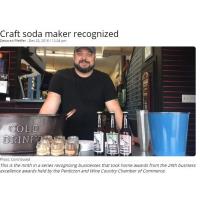 A Penticton business focused on traditional soda making was recognized by the chamber in October.
The People's Crafthouse was given the agricultural and agri-business excellence award at the event.
"There were a lot of great companies nominated as well, so when I was won I was quite shocked," said owner Jason Cox.
The business is a small batch craft soda maker that makes soda pop out of natural ingredients.
Among their many creations are root beer, cream soda, ginger ale, seasonal fruit soda and lavender lemonade.
"We try to be as local as we can, using local vineyards and fruit growers," said Cox.
The business concept has been well received with a growth in sales every year.
"A lot of people have chosen to cut soda out of their diet, so they are interested in seeing what we are doing and choosing us," he said.
Cox said they were even invited to Toronto to film an episode of Dragons' Den this year, with the episode airing in January.
The business, currently located on Fairview Road, is moving to 215 Winnipeg St. next year.
"I am really looking forward to it," said Cox. "We have a designated soda production space and are building a true soda factory. We will also be expanding our tasting room on site so locals and tourists alike can try out our products."
http://www.castanet.net/news/Penticton/184391/Craft-soda-maker-recognized