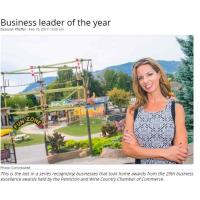 The owner of a business that offers fun activities to Penticton visitors and residents was recognized by the Chamber of Commerce in October.
Diana Stirling, the owner of LocoLanding Adventure Park, was the recipient of the Business Leader of the Year Award.
"It's an honour to receive this because I have a tremendous amount of respect for the chamber and business community in Penticton," she said.
Stirling's parents started the business in 2001 in memory of her brother who died in a workplace accident in 1999.
When the parents decided to semi-retire in 2009, Stirling and her husband decided to move up from Vancouver to keep the business in the family.
"It was built as a place for families to come and have fun together and in memory of my brother," she said. "We didn't know Penticton and we have since fallen in love with it. It's a beautiful community to raise a family and run a business in."
LocoLanding offers several activities including mini golf, go karts, a high level ropes course and more.
"We call ourselves an adventure park because almost every activity is pushing people outside of their comfort zone," said Stirling.
She credits the success of LocoLanding on re-investing in the business, which she describes as bringing in something new every year, and their enthusiastic staff
This year in 2017, they will have 80 employees, all high school students.
"The staff is always the reason for our success. We also really try to connect with the community as much as we can."
http://www.penticton.org/list/member/abv-squared-inc-2912