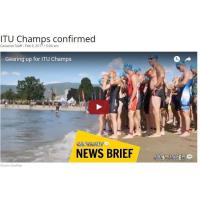 Penticton has formally signed on to bring the first-ever ITU Multisport World Championship Festival this summer.
The ten-day event marks the first time all of the ITU world championship events have been held at the same time in the same city, and comes about two years after the city's initial bid for the event in 2015.
ITU announced Penticton as the host city for the event in May 2015.
"Penticton 2017 goes way beyond anything that has been held in the city's 35-year triathlon history and represents a long-term investment into securing our place as a world-class triathlon destination," Mayor Andrew Jakubeit said in a news release.
"The agreement is also a strong reminder that the event is fast-approaching and whether you are thinking of volunteering, wondering how your business can capitalize on the influx of visitors, or would like to offer a homestay to some of the many international athletes, it's time to get moving."
Penticton and Wine Country Chamber of Commerce, Travel Penticton and the Downtown Penticton Association have all expressed support for bringing the event to Penticton.
"An event of this magnitude will be a boost for the Penticton business community," chamber president Michael Magnusson said. "Our focus now for local business is to get stocked up and be prepared."
On top of putting the city more firmly on the map for sporting events, according to staff at city hall, the economic impact from Penticton 2017 is expected to hit over $15 million. That's coming with up to 40,000 room nights set to be booked for the event.
Up to 5,000 athletes and 7,000 visitors from about 50 countries will be attending the event, according to organizers, with athletes competing for six world championships."
The annual Challenge Penticton event will also be hosted this year, but will be moved to July 23 to accommodate Penticton 2017.
The festival is set to run from Aug. 18 to 27.
http://www.castanet.net/news/Penticton/188336/ITU-Champs-confirmed