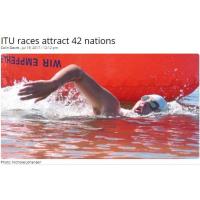 The countdown is on.
In less than one month, the world will come to Penticton for the ITU Multisport World Championships Festival Aug. 18 – 27.
Festival executive director Michael Brown visited city council on Tuesday to deliver an update on an event that will bring in 3,600 athletes from 42 countries for six world championship races over 10 days.
Brown told council the average nightly stay for each athlete is seven nights, with each bringing an average of 1.9 people with them. He claimed a $8.6M economic impact.
"Two years flies by pretty quickly, it feels like yesterday that I was sitting in here talking to the councillors about if we could pull this off," Brown said.
Brown touted $300,000 spent on local salaries and another $500,000 on local vendors. 1,400 people have signed up to volunteer, on track to reach the required 1,800.
"The Denmark delegation is coming to see how they are going to do it in 2018, and they've already expressed some concerns about how they are going to match up to what we are trying to do," he laughed.
Brown noted a case of a female athlete from the middle-eastern country of Bahrain coming to compete that excited him, "she's coming because she can't race in Bahrain."
Organizers are planning several events for the general public over the 10 days, including a "red and white party" on Aug. 23 in Gyro Park. Medal and closing ceremonies will also be held at Gyro, open to everyone.
With a scaled down Challenge Penticton triathlon taking place this weekend, Brown asked council to transfer some of it's unused "value in kind" support from Challenge to the ITU Championships. The city initially promised $110,000 in in-kind support to Challenge and $125,000 to the ITU event.
The new arrangement, approved unanimously by council, will see $45,000 for Challenge and $190,000 for the ITU Championships. The City has also contributed $125,000 in cash to the world championships.
https://www.castanet.net/news/Penticton/202215/ITU-races-attract-42-nations