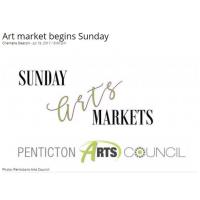 Summer art markets begin this Sunday in Penticton, running until September 3.
The markets takes place on the grounds of the Leir House at 220 Manor Park Avenue, starting July 23 from 11 a.m. to 3 p.m.
"We welcome vendor sellers of arts, crafts and local food products, and musicians to perform for the Sundays as well," Sharon Lawrence, Penticton Arts Council office administrator. "We also welcome those individuals who would like to offer the opportunities of massage, reflexology and card readings."
The event exists for the purpose of providing a unique marketplace where individuals can exhibit and sell fine art and quality handcrafted work to the public.
The Penticton Art Councils objective is to bring all a chance to socialize, listen to music and have fun.
Vandor tables for the Sunday events are $10 for general admission and $5 for Art Council members. The market is free to the public.